Who am I?
My name is Tiffany and I have a true passion for growing families. I am a mother to four gorgeous children. Like some family photographers, my love for photography soared as I was expecting my first child. I wanted to remember how amazing it felt to be the biggest (in many ways) part of creating and sustaining a human life. I wanted to document every noteworthy moment of our new baby. Smiles and giggles. Milestones and accomplishments.
Why do I want to work for you?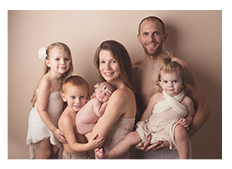 My kids are growing too fast and photographing those joyous moments is part of what gets me out of bed every morning. Those "bump to first birthday" milestones are incredibly precious to me.
I want to capture your joy. Capture it so you not only can see it, but so you can FEEL it. I want you to relive this joy day after day. Remember how amazing you felt feeling your baby kick. Remember the smell of your newborn baby when you're reminiscing though old photographs on the day of their high school graduation. I want to stop time for you so you can reminisce in it always.
---